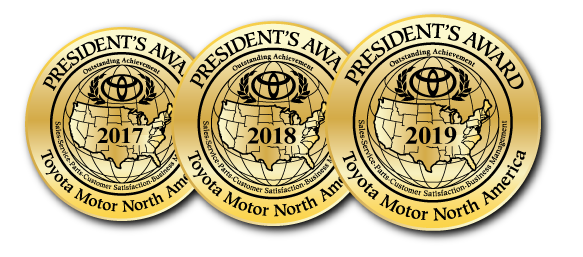 Bayside Toyota is honored to announce that we received the prestigious Toyota President's Award for the THIRD year in a row! This coveted award is bestowed only upon those dealerships who have met Toyota's high customer satisfaction and quality of service standards. We couldn't have been presented this award without all of the support from YOU! - our awesome and loyal customers and supporters! We can't even begin to thank you enough for this honor and we look forward to providing you excellent service for years to come!
What Does The President's Award Mean?
Each year Toyota Motor Sales recognizes its finest dealerships with the President's Award. The President's Award honors Toyota dealers that excel in all facets of their operations. It is recognition for dealerships that continue to go above and beyond at each customer touch point and represent the best of the best.To qualify as a President's Award winner, we have to excel in a number of different categories that include customer sales satisfaction, customer service satisfaction, market share attainment, vehicle delivery excellence, and employee training and certification. The accentuation is on "customer" in that we have to demonstrate a commitment to maintaining the Toyota brand's high standards of customer satisfaction.